Sunday Early
Oakland Raiders @ Green Bay Packers (-5.5)
Oakland: Don't look now but the Raiders are over .500 and a sneaky good team in a weak AFC.
Green Bay: The top three receivers for Green Bay haven't practiced all week. But we all know Rodgers doesn't need talent- he always finds the open guy.
TL;DR Oakland winning in Green Bay would shock the football world. It would also lead to a litany of excuses that only Aaron Rodgers would produce. If there are football gods in the world…
Los Angeles Rams (-3.0) @ Atlanta Falcons
Los Angeles: The Rams put their top cornerback on IR, and put their CB2 on a plane to Baltimore. For a team that struggles against the pass, it didn't make sense, until they traded their future for the "best" cornerback in the league- who they won't be able to sign after this season.
Atlanta: Why exactly does Dan Quinn still have a job?
TL;DR The Rams ABSOLUTELY must win this game. The Falcons are a shell of the team the Patriots beat in the Super Bowl; the Rams are trying desperately to prevent the same thing from happening to them.
San Francisco 49ers (-10.0) @ Washington Redskins
San Francisco: At 5-0, the 49ers are definitely Week 7 good. Well have to see what that means in Week 17.
Washington: Washington fires their coach and then wins a game in their season of tanking. Things are rough for Washington's football club; good thing their baseball club is a team of destiny.
TL;DR Kyle Shanahan, Sean McVay, and Matt LeFleur all came out of the Washington Football Club coaching system. The fact they are now without a coach shows just how incomptent that front office is.
Houston Texans @ Indianapolis Colts (-1.0)
Houston: Houston looked like a team that didn't belong on the same field with King Patrick in the first 20 minutes of last week's game. But the Texans actually had a game plan and were able to overcome questionable officiating and Bill O'Brien play-calling to stake a claim as one of the best teams in the league.
Indianapolis: Indy is getting healthy and looking at the AFC unafraid. This team is not sneaky good, they are flat-out good. Unless, of course, they lose to Houston.
TL;DR In a battle of the two teams to most recently knock off the Chiefs, the winner sets themselves up as the favorite in the AFC South...and maybe the favorite for the #2 seed in the AFC.
Minnesota Vikings (-2.0) @ Detroit Lions
Minnesota: YOU LIKE THAT?! Stefan Diggs fantasy owners and Kirk Cousins truthers united last week as the Vikings but together a second straight dominant performance and vaulted themselves back to the contender/pretender line.
Detroit: Man, Trey Flowers got screwed. We will all remember last Monday for how the NFL conspired to ensure that Detroit wouldn't win, but the Lions' inability to score TDs in the red zone is what actually killed them.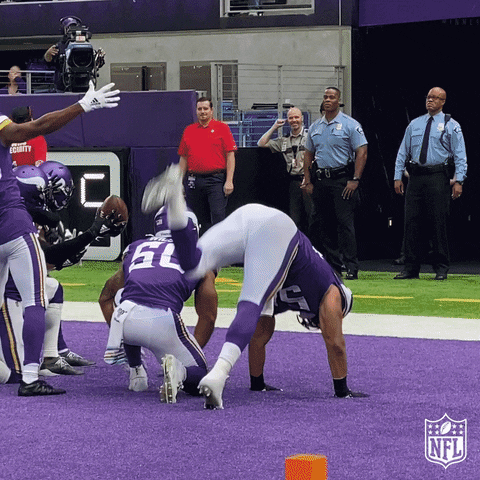 TL;DR The Vikings are 0-2 in their division. A loss to Detroit would seriously hinder their ability to claim the NFC North crown. But since this game isn't in primetime, expect Good Kirk to show up.
Jacksonville Jaguars (-4.0) @ Cincinnati Bengals
Jacksonville: The Jags come to town feeling lighter without the Jalen Ramsey baggage… and also less likely to stop a legit passing threat. Good thing they are playing Cincy.
Cincinnati: We are going to pass on writing about the Bengals this week. Wake us up when they start making trades.
TL;DR Jacksonville could fool people into looking good again this weekend, but a win against Cincy doesn't turn around a season on the brink.
Arizona Cardinals @ New York Giants (-3.0)
Arizona: Wait, Arizona has 2 wins? And 1 tie? And Kyler Murray is getting better by the week? Arizona still isn't good, but a road win to bring them to .500 might have people thinking twice before overlooking the Air Raid.
New York: After winning a TNF participation trophy from spoiled, panicked Patriot fans, the Daniel Jones hype train resumes is trip to Canton at home.
TL;DR In a battle of potential Offensive Rookies of the Year, Danny Dimes has some ground to make up to catch up with Kyler the Kid.
Miami Dolphins @ Buffalo Bills (-17.0)
Miami: The Dolphins are so good at tanking that after scoring the potential game tying touchdown, they ran a "can't possibly convert this" 2 point play to ensure they would take the Loss. Bravo.
Buffalo: It's been two weeks since we've seen Buffalo, so many of us have forgotten just how terrible Josh Allen is. This week, against this team, won't help that narrative.