Sunday Early
Denver Broncos @ Buffalo Bills (-4.0)
Denver: The Broncos played a surprisingly close one against the Vikings, but the real news out of Denver is that Tim Tebow's NFL career finally, unofficially came to a close with his Instagram post announcing that he put his dog Bronco down.
Buffalo: Is it possible that Josh Allen can be both the Bills best offensive player and the reason they don't make the playoffs?
TL;DR The Bills need to keep winning so they can stay in pole position for the #5 seed in the AFC playoff hunt, but the Broncos are a team that is starting to turn the corner with a new QB under center.
New York Giants @ Chicago Bears (-6.5)
New York: Danny Dimes spent the week practicing "ball security" in an effort to limit turnovers. I'm sure he asked Eli for his advice on this.
Chicago: Mitch's mysterious "hip injury" at the end of the Rams game certainly helps explain why he's the 29th ranked QB in the NFL this season. The idea that benching him had nothing to do with his play is almost as laughable as the idea that benching him with 2 minutes to go down 10 points was going to impact the outcome of the game.
TL;DR Two storied franchises. Two lost seasons. It'll be 40 degrees in Chicago on Sunday so… there's that.
Pittsburgh Steelers (-6.5) @ Cincinnati Bengals
Pittsburgh: The rumors in Cleveland are that Mason Rudolph has a biting problem, and that was the reason why Myles Garrett took a swing at him. While evidence supporting this theory is thin, what's actually true is that Pittsburgh is one of only 3 teams to yet have a QB throw for 300 yards this season.
Cincinnati: There hasn't been much to celebrate in Cincy this year, so why not jump for joy when your franchise back scores his first rushing TD of the year in Week 11?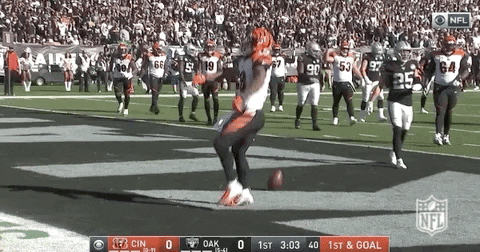 TL;DR Cincinnati is still looking for their first win of the season, but Pittsburgh is still in the playoff race, and that probably means more.
Miami Dolphins @ Cleveland Browns (-10.5)
Miami: Miami really screwed up the whole "Tank for Tua" plan. But with Tua's hip injury, he's likely to be available when the Dolphins draft 3rd instead of 1st.
Cleveland: This week will be just the 3rd time since their franchise was restored in 1999 that the Browns are favored by double digit points.
TL;DR There are like 70 new holiday-themed made-for-TV movies being released on the Hallmark and Lifetime channels this season, and every one of them will be better than this game.
Tampa Bay Buccaneers @ Atlanta Falcons (-4.0)
Tampa Bay: Everyone favorite's bad team to watch is a great example of what a team can do when they're loaded with talent on both sides of the ball, but have no coordinated coaching.
Atlanta: Are the Falcons good now? Apparently all it took was Dan Quinn not calling defensive plays and losing their starting tight end and running back to injuries. Go figure.
TL;DR This is a surprisingly watchable game between two teams that haven't sniffed postseason relevance in the past two years.
Carolina Panthers @ New Orleans Saints (-9.5)
Carolina: All of a sudden the whole "we don't need Cam" is tough to take as Kyle Allen has settled in as the worst of the QBs named Allen.
New Orleans: The Saints have lost nearly every significant playmaker this season (with the exception of "Can't Guard Mike" Thomas), and yet have consistently remained at or near the top of the power rankings. That's what good coaching gets you.
TL;DR Carolina's season hangs in the balance. Bet they wish they had New Orleans' backup.
Seattle Seahawks @ Philadelphia Eagles (-1.5)
Seattle: No team that has run more than 340 plays while losing has a winning record, with the exception of the Seahawks, who are 8-2. You can attribute that outlier to Russell Wilson, the hands-down MVP in any league year that doesn't include Lamar.
Philadelphia: The Eagles have been an enigma all year- but we have learned two things. 1. Agholor is really good at dropping important passes and 2. Maybe it was Frank Reich, and not Doug Peterson, who was responsible for the Philly play-calling magic two years ago.
TL;DR This game was flexed out of Sunday Night. Someone should check on Lane Johnson and ask him if he's still having fun. (You can find him in the concussion protocol).
Detroit Lions (-3.5) @ Washington Redskins
Detroit: It has been a season defined by "almost" and "not quite" for part-time overweight hobo/full-time head coach Matt Patricia and his Detroit Lions.
Washington: Of the 94 NFL players to throw a pass this season, Dwayne Haskins is ranked 70th. Meanwhile, Derrius Guice is releasing mixtapes roasting Tom Brady, Carson Wentz and more. Welcome to the future, Skins fans.
TL;DR Tickets for this game are going for $4 dollars. FOUR DOLLARS. Don't believe us?
Oakland Raiders (-3.0) @ New York Jets
Oakland: Why aren't you talking about us guys? The 6-4 Raiders are the surprise team in the NFL that no one is talking about and they are a half game behind the Chiefs with a Week 13 match looming. Better not overlook the Jets.
New York: The Jamal Adams/Leonard Fournette Twitter beef is the content that the internet was invented for.